KH Pool Services in Miami, is a full service pool cleaning company that provides pool services to homes, condominiums, commercial buildings, and gyms throughout Miami-Dade, Florida. We provide top of the line service with top of the line customer care. From maintaining and servicing the pool to communicating with the clients, we take pride in how we do business with our customers. As part of our service, we will provide maintenance to the pools, which includes: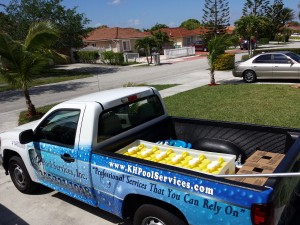 1. Checking and cleaning the pump system
2. Vacuuming, brushing, and netting the pool as needed
3. Checking all of the chemical levels that a pool needs maintenance on
4. Applying whatever chemicals the pool needs for the chemicals to be balanced
Fully Licensed and Insured in Pool Cleaning Services in Miami
CALL TODAY to get a FREE quote on our pool services or contact us here !  There is no pool we can't clean and no price we can't match!  So, pick up the phone to get started with reliable pool service Miami pool owners/managers.